Which exfoliation option is the RIGHT ONE for me?
Exfoliation brings vibrancy and smoothness to the skin. Regular exfoliation removes the buildup of the hard keratin layer (or dead skin cells) and makes skin clear and more even. However, maybe the most important purpose of it is to allow absorption of your skin treatment products. In mature skin, exfoliation helps remove dry flakes, revive fatigued skin and reduce fine lines.
There are three major types of exfoliation professional skin care specialists can perform on our skin, or if we have it available we can perform on our faces or body at home. Peels, scrubs and gommage exfoliants.
Exfoliating Scrubs or Peels? Or maybe Gommage?
You find options of scrubs, peels, and even the most gentle gommage exfoliant in our collection. But how to decide what's the best for your skin? Our peels have about the same percentage of organic Alpha-Hydroxy Acids, however there is another factor that affects a peel's strength, and that is its pH level. The lower the pH, the stronger the product is in terms of dissolving dead skin cells.
Our scrubs have various types of scrubbing elements and nutrients to fit the needs of different skin types and conditions.
The ilike organic skin care peels
Peels are chemical exfoliants. Their potent ingredients – such as various Alpha-Hydroxy Acids – dissolve the dead skin cells and reveal new, beautiful, undamaged cells, therefore they are immediate skin renewers. None of them require downtime, they all are immediate skin beautifiers. And the results last for days.
Yogurt Power Peel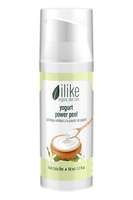 Our most popular peel is also the strongest in our selection as its pH is the lowest of all three. It is a Lactic Acid peel that is very beneficial for drier, aging or mature skin, and for hyperpigmentation, as Lactic Acid is a great skin brightener. This peel also helps with the skin's microbiome with its probiotic content.
It is a short – 3-5 minutes – peel, very easy to use. Recommended usage is 1-4 times a month, depending on the severity of the condition you wish to treat. Use 1-2 times a month for just regular skin maintenance. It can also be used on the body. Especially recommended for dry patches and areas, such as elbows and heels. You can leave the peel on these areas for ½ hour to even overnight (wearing socks).
Botanical AHA Peel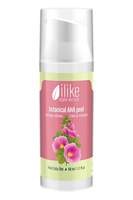 This is also a Lactic Acid peel with a bit higher pH than the Yogurt Power Peel. It also has a high antioxidant content from Hollyhock (that also gives it the pink color), therefor it is very beneficial for stressed, tired, pollution damaged premature r mature skin.
This is also a quick, easy to use peel. You need to leave it on for about 5 minutes, and just wipe off. Just like with the Yogurt Power Peel, its recommended usage is 1-4 times a month, depending on the severity of the condition you wish to treat. Use 1-2 times a month for just regular skin maintenance.
AHA Fruit Peel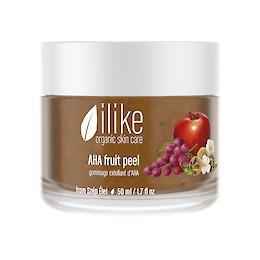 This chunky peel with a mask consistency makes our signature treatment with our Hungarian Paprika Gel Treatment. It can be used alone but layering the Hungarian Paprika Gel Treatment over this makes it a super facial that many "can't live without".
It combines various fruit acids, glycolic acid and lactic acid, which makes it beneficial for all skin types. Made of Apples, Grapes and Medlar, it also nourishes the skin with vitamins and antioxidants.
First you layer the peel, then the Hungarian Paprika Gel on top of it. As the Paprika Gel has Capsaicin, it is an immediate blood flow stimulator. It increases blood circulation and cell metabolism. The skin becomes reddish, but it is not from irritation, it is from the increased blood flow, which is the ultimate anti-aging and detoxifying effect. The acting period is approximately 20 minutes, and by the end of this, soothing herbs kick off, and start to calm the skin. Most people are still pink when the products are removed, however that goes away quickly, especially when using calming products afterwards.
Just like with the other peels, you can use this 1-2 times a month for regular skin maintenance. However, if you treat active skin conditions, such as acne, or dull skin, we recommend using this peel treatment in series of 3 times for the 1st two weeks, 2 times for the 3rd and 4th week, then weekly, and gradually decreasing the frequency.
Exfoliating Scrubs
Scrubs are mechanical exfoliators that use particles to gently remove dead skin cells. All of our scrubbing particles are natural, we don't use plastic or non-biodegradable microbeads. All should be used by massaging on the skin in circular motions for 3-5 minutes. Best effect can be achieved if product left on for another 4-5 minutes to allow the nutrient penetration, then removed by gommage movements (rolling the product off with your fingers – with the exception of very sensitive skin).
All of the scrubs can be used on face and body.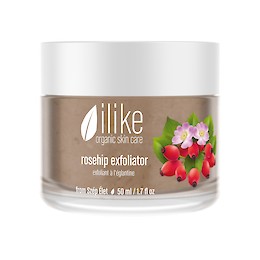 Rosehip Exfoliator
Our most popular scrub is created for all skin types but especially beneficial for normal to oily, acne prone and sensitive skin. The scrubbing particles are cornmeal pieces. This product contains a small percentage of Lactic Acid, adding the dead skin cell dissolving benefit and brightening effect. Rosehip is very rich in Vitamin C, an essential cell renewing antioxidant. Its clarifying effect is very beneficial for teenage skin, too.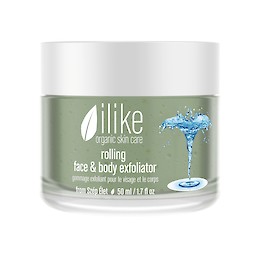 Rolling Face & Body Exfoliator
Made with therapeutic Hungarian thermal water that is high in minerals this gentle scrub also contains hot paprika for invigoration and to supply Vitamin C and other antioxidants for a younger looking complexion. Recommended for dry, dehydrated, premature or aging skin. The scrubbing elements are gently rounded cornmeal granules.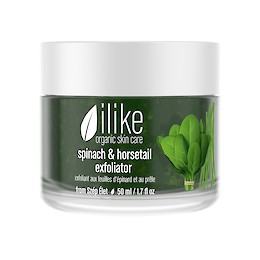 Spinach & Horsetail Exfoliator
This gentle scrub created for normal to combination or devitalized skin has dried horsetail powder as scrubbing elements. Spinach is rich in powerful antioxidants, vitamins and iron beneficial for stressed, devitalized, polluted skin.
Grape Stem Cell Solutions™ Polishing Scrub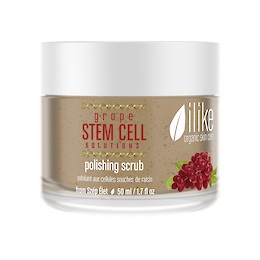 This is a gentle scrub with highly potent free radical neutralizing red grape stem cells for normal to dry, mature, aging and loose skin. It reduces the visible signs of aging for a more luminous, vibrant and healthier skin. It contains the entire pulp, skin, juices and of course the stem cells of red grapes, even the scrubbing elements are grounded grape seeds.
Ultra Sensitive System Exfoliating Mask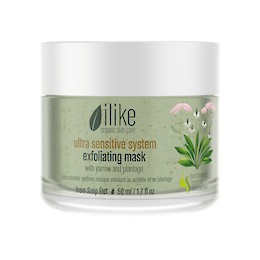 This gentle and essential oil free scrub was formulated for sensitive and allergenic skin. The scrubbing elements are grounded grape seeds in this one, too. It is dermatologist tested for the most sensitive skin.
Gommage Exfoliator
Sulphuric Exfoliator
This is a very gentle exfoliator without scrubbing particles. It is so gentle that you can even use it around the eye area. It is beneficial for all skin types, especially for inflamed or inflammation prone and also for aging skin. You need to apply it in a medium thickness (not see through, constant white color on the face), wait 7-8 minutes till it almost dried, and roll it off with circular motions. When used around the eye area, you would peel it off starting at the outer corner and being parallel to your skin, so you don't "lift up" your skin.